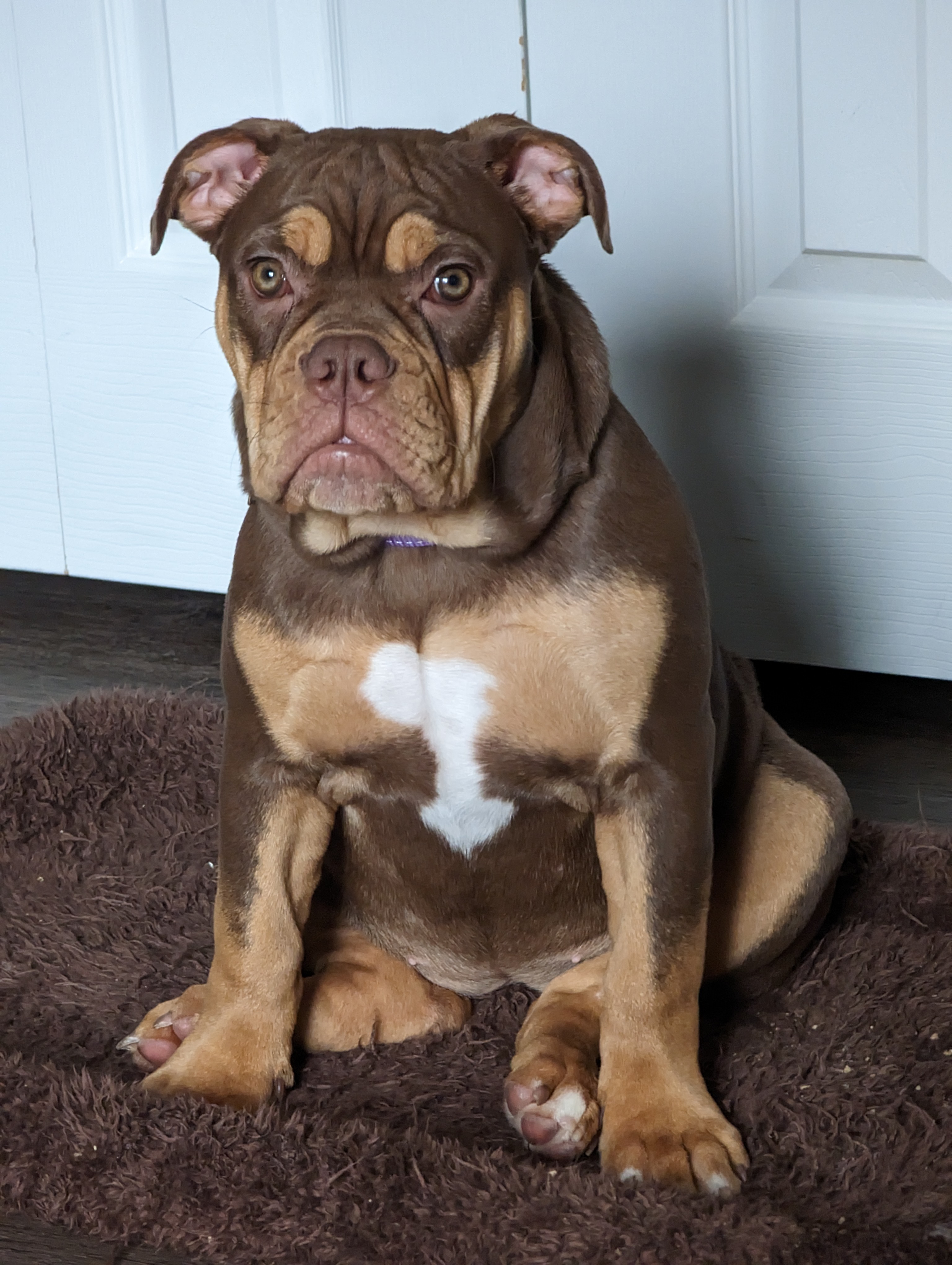 Ryan, Nina & Eloise
I just wanted to give you a little update on Weezy and say thank you so much for giving us such an amazing pup. I've never had such a healthy pup, not one issue and has taken to the vaccines great. She has a beautiful shiny coat, great skin (no allergy to chicken) and clean ears! 
She is soo smart and attentive (sometimes too much for her own good). She learns new things so quickly. She took to the crate at night (on our main floor) by herself and sleeps 11pm-8:30am with no barking or accidents in between. 
Her eyesight, hearing and coordination are crazy good. Is she part collie? lol she can spot dogs and people before I can, a block away. She can catch toys and treats mid air already, I stopped at 5 treats in a row.... That's impressive for her age.
She loves approaching strangers and really loves kids and other dogs of all sizes. She a good little on leash walk too once she gets moving!
Can she be a little rambunctious zoomie girl who wants to teethe on everything once in a while? You bet, but that's puppy par for the course. 
Anyway I can go on with how amazing this little girl is and is on her way to being but i will leave it at that and say big thank you for the high quality pup! (even at second last pick :P)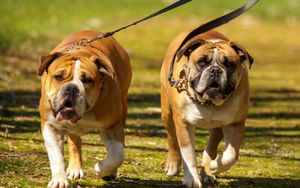 Lindsay, Mike, Sullivan, Gus & Otis
We got our pups from All Star Bulldogges and they are beautiful and best buds.
We have always had a great connection and support with Erin since day one, and the dogs are now 4 years old. 
We would highly recommend All Star Bulldogges to anyone looking for this breed.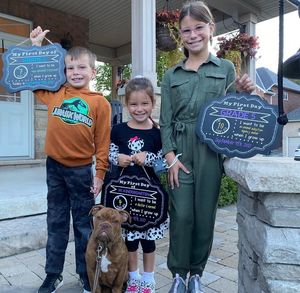 The 'Schick's & Remy
Getting a dog during the pandemic was never a plan of ours, but after losing our American bulldog suddenly, we knew we needed another bully in our lives.  We love all the bully breeds, but wanted a little less intensity in our next fur baby. After plenty of research, and speaking with multiple breeders, All Star Bulldogges stood out and felt like the perfect fit. Watching videos of Erin and the puppies online and multiple conversations through email and on the phone, had us excited that an All Star Olde English Bulldogge would be the best fit for our family.
We were right!!! Hansel and Willow, produced a beautiful litter, and the most sensitive of the boys was coming home with us. Remy is more perfect than we could ever have imagined. He is loyal, loving, tolerant, easily trainable and a people pleaser through and through. He has never met a dog or person he doesn't think is his best friend, and is frankly offended if they don't feel the same way. A total mommas boy, Remy would rather spend his days snuggling or training than going for a walk, but is a great loose leash companion when we're out.
A total All Star in obedience, Remy is a little ham, and shows off just how smart and easily trainable he is.  We are super excited to start Rally Obedience next week.
At home, Remy is the most tolerant and gentle soul with the kids and is game for pretty much anything as long as he's with us. And although he sometimes snores, the happy moans melt our hearts every single time.
At 8 months old, he's still deciding whether swimming is for him, but hopefully the lake this summer will convince him it's not so bad.
Thank you Erin for everything! Remy truly is a 'Prince' and he is the perfect companion for our family!!!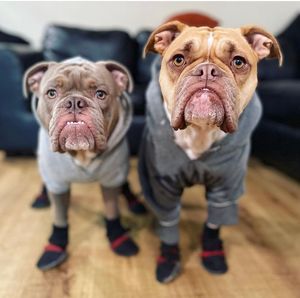 Kirsten, Storm & Salem
These two have brought so much joy to my life. 
Erin made the process so memorable and exciting for my first, Storm. It was no question I'd be going back to All Star Bulldogges when I was ready to add a second puppy to my family. So then came Salem. Their personalities are to die for, both of them are packed full of energy and keep me on my toes daily,  I wouldn't have it any other way.
Thank you for helping me create this dream team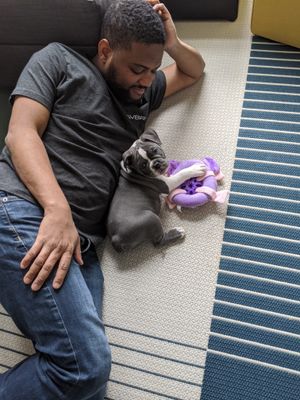 Suruthi, Seville and Skye
We had discussed getting a dog for a long time and it took a while to land on the OEB, but once we did Erin was the clear choice.
 
From our first conversation with her it was clear that not only did she have great dogs but she also made herself available to us as a resource through the whole process and beyond. Having her to lean on as we got prepared for our new puppy and as we navigate the ups and downs of puppyhood has made all the difference. Skye (our OEB) has only been with us for a few weeks but now we can't even imagine what life was like before her!
 
Thank you Erin
The Leclair Family & Fergie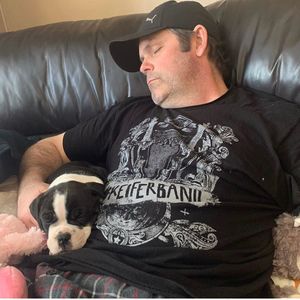 You have made this experience an absolute awesome experience.
Talking to you and seeing how caring, patient and understanding you are with people is what this world needs right now.
I wasn't sure how I would feel being on the fence about getting a puppy so soon after Juicy's passing but talking with you and seeing the effort you made to make us happy, that goes beyond words.  I never thought getting Fergie was what I wanted right now but having her is exactly what I needed.  
She is a lovable, sweet and beautiful dog.
The Lappin Family & Statler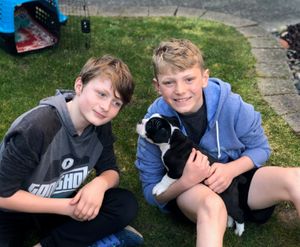 Statler is settling in quite well with his new home.  He is so sweet and shows love to us all!  Though such a crazy time in the world, the slow down has given us the chance to all bond with Stats and help him feel like we are now his family.  We are having fun and his presence in our house has made it feel more like a home - complete!
Thank you for all of the communication and photos throughout the weeks/months prior.  It's hard when we are separated by provinces but you made it so we felt connected and informed.  The videos and pictures had us looking numerous times a day!
Statler is a beautiful dog both in physical appearance and in personality.  
The Galati Family & Travis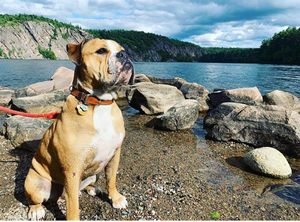 After long debates and discussions, my wife and I felt it was finally time to enrich our family's live with the addition of a dog. As a family of five we all independently researched for the perfect breed. With the benefit of the internet we quickly came across many breeds and breeders but most importantly each of us continuously encountered numerous warnings of breeders that are in the business with the sole focus of only earning an income. The common consensus was, "Do your research."
After several dinner time discussions, we all agreed it was a Olde English Bulldogge we wanted. We came up with a list of breeders local to us and from the moment I email Erin at All-Star Bulldogges and through the entire adoption process you can tell that Erin was a breeder that cared about our family's adoption experience, but mostly the well-being of her dogs.
Through the entire process, Erin was upfront and knowledgeable with any questions my family or I had about the breed or just general dog care questions. She does an exceptional job in telling you what's going on behind the scenes when you're not there. The constant emails, from pregnancy announcements, pictures, birth, litter count and vet visits. Erin worked hard making sure that we were a big part of this process.
In the end we did adopt a puppy but during the process Erin adopted us. We felt like family. We couldn't be happier with the experience, but we are over the moon with our new Olde English Bulldogge, Travis.
 
Thanks, Erin. Thank you, Fury.
The Mills Family & Neeka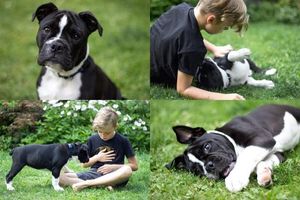 It was such a pleasure meeting Erin and her All Star canine crew.  We knew as soon as we met Ting that a Bulldogge would be right for us.  We had done a lot of research into dog breeds and our number one priority was a family oriented breed; specifically a dog that does well with young, rambunctious boys. 
Erin provided a lot of insight into the breed's characteristics as well as her specific goals for the dogs she breeds.  We were particularly happy with Erin's commitment to match the puppy's personalities with the right family.  We have had several dogs in the past but never had such a good experience with a breeder.  It is clear that Erin is completely committed to the happiness of her unique pups but she somehow manages to balance that with a down to earth open-mindedness that was really refreshing.
Our little/big Neeka comes from the 2015 Ting/Dozer litter and came home to us in the middle of summer.  Since then, she and the boys have been an unstoppable trio. She loves every person and every dog she meets. She is incredibly adaptable, taking everything in stride. She takes easily to training and sincerely aims to please.  She is so curious; every new discovery is THE BEST discovery.  It has been amazing watching Neeka and the boys bond.  She is only nine months but we can't wait to see the adult dog she grows into and her relationship with all of us flourish.

Thank you so much Erin for such an enjoyable adoption process and for always being there for us since then.